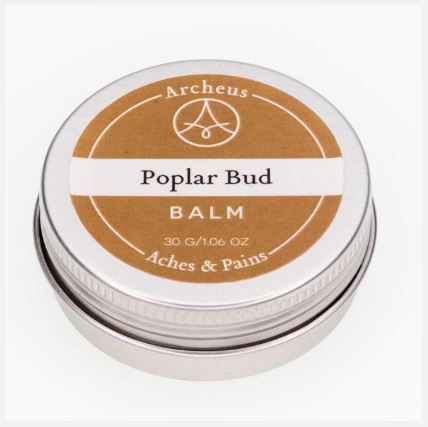 Poplar Bud Balm
30g
Poplar Buds are a traditional remedy for aches and pains and inflammation, particularly for things like rheumatism and arthritis. They have been used over millennia. The bible refers to these buds as the Balm of Gilead, or Mecca balsam.
We harvest buds from trees on our property and so this means the amount of product we can make is dependent on the season. They are sticky and resinous and have a sweet camphory sort of smell. Harvesting for 2018 started in March and continued over several weeks. The buds were then macerated into certified organic sunflower oil before being strained and made into a balm.
These are a truly seasonal, local product.
Ingredients: Heliannthus annus (Sunflower) oil*, Populus spp (Poplar) Bud**, Cera alba (Beeswax)*, Comfrey (Symphytum officinale) leaf*, Arnica (Arnica montana) leaf, Tocopherol. *certified organic, **organically grown
Note: This balm contains salicin, which converts to salicylic acid in your body. If you are allergic to aspirin, check with your doctor before using.
Do not use on broken skin.