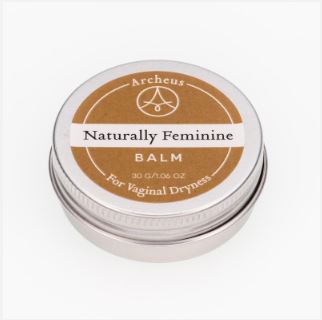 Naturally Femine Balm
I don't think any of us were ready for the experience of dryness that can occur with hormonal changes during and after menopause.
It's reassuring to know that you are not alone with this problem, and that you've landed on a completely natural product we created specifically for it.
It's completely natural

You can use it all day

It feels good (not sticky)
This is a product that you can use at any time of the day. Because it's oil-based, it absorbs easily and doesn't go all sticky like water-based products. Applying a little in the morning can help keep things soothed during the day.
Naturally Feminine Balm is an all-natural vulva and intimate skin balm that moisturises, soothes, protects and calms sensitive and tender skin.
This balm will provide relief for dryness, redness, itching, burning and general discomfort caused by chemical irritants, medical interventions, intimate activity, hormone changes, pregnancy, postpartum recovery and menopause.
And yes, it is great to use when having sex. We've even had customers tell us it has helped save their marriage! Just don't use it with condoms as oil makes condoms split.
We use certified organic ingredients used over centuries for soothing and calming 'lady bits'. Chickweed cools sensitive tissue, burdock & gotu kola stimulate blood flow to the area, coconut, jojoba and camellia nourish and rejuvenate dry, thin vulva tissue.
Directions for use: Massage a small amount on affected area. Do not use with condoms as oil and latex do not mix and the condom may break.